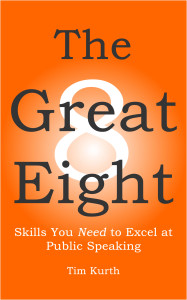 The Great Eight is my latest book dedicated to the art of public speaking. This book has been released through Smashwords so it's available to any ereader you have. Later today it will also be available on Amazon in the Kindle Store. This book gives practical tips on the core skills you need to become an excellent public speaker. There are questions at the end of each chapter to help you practice the skills.
I'm very excited to offer The Great Eight to everyone. It distills much of what I've learned about great presentations over the last forty years. My hope is that you will find it useful and easy to understand. After you've downloaded the book and had a chance to read it, please write a review and let me know what you thought.
Click here to purchase the book through Smashwords.
If you enjoyed this article, Get email updates (It's Free)