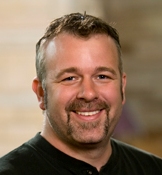 Since launching Your Best Openers earlier this year it has been my hope to add high quality contributors to this resource. While I think I have a lot to say when it comes to being an excellent presenter, my voice shouldn't be the only one. So I've asked some good friends to consider becoming contributors. Toby Rowe is the first of what I hope will be several people contributing to Your Best Openers and our companion Daily Devotions site. Please welcome Toby and make him feel at home.
Active in youth ministry for more than 20 years now, Toby has helped lead more mission trips and weekend retreats than he can remember! Toby has served at two churches, and currently is the Mission Program Manager at Group Mission Trips and Simply Youth Ministry, and is one of the lead instructors for Group Publishing's "Next Level Speaker's Training." You can also find him co-hosting the Group Magazine Live show, being the Mission Mentor for youthministry.com, speaking and teaching at ministry events, or leading worship at his local church. Toby, and his wife, Pam, live in Loveland, Colorado, and have four children.
We look forward to Toby's contribution to Your Best Openers!
If you enjoyed this article, Get email updates (It's Free)